<![endif]-->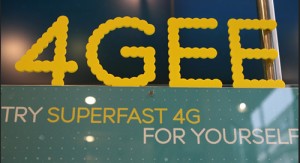 EE have revealed their results for the first quarter of 2013 (up to the 31st of March) and if they're anything to go by the future is looking bright for 4G and in particular for 4GEE.
EE have reported that 318,000 people have signed up for their 4G service within just five months of trading, which supposedly puts them on track to reaching more than one million 4G customers by the end of the year. Additionally there are already 1600 medium and large businesses using their 4GEE service, including NG Bailey, PA News, Reed Recruitment, RAC, Tate & Lyle and United Utilities.
EE aims to bring 4G coverage to the homes and businesses of 70% of the UK population by the end of the year, which is presumably also a necessary step towards reaching their one million customer target.
Neal Milson, Chief Financial Officer of EE commented that:
"Today's results are in-line with our expectations, and we are making good progress focusing on high value segments.  We're announcing 318,000 4G customers after just five months of trading, strong postpaid net adds and continued growth in our underlying average revenue per user.  We expect to strengthen our industry leadership position in the year ahead as the 4G roll out continues and we introduce double-speed 4GEE."
This is all great news for EE, but it's also good news for Vodafone, O2 and Three, as while none of them have launched their own 4G networks yet it suggests that consumer interest in the service is quite high, so once they do launch they may well find a lot of people sign up quite quickly, assuming EE don't scoop them all up first.
Away from 4G, EE seems to be doing well in other areas of their business too. They've reported a net increase of 166 thousand pay-monthly customers, which is the best Quarter 1 result in that area since the company began trading. That comes down to a mix of great customer retention (they only lost 1.2% of existing pay-monthly customers during the quarter) and a solid uptake of new customers- which is probably in large part down to the currently exclusive availability of 4G on their network.
Their data revenues have gone up too, which is perhaps no surprise given that they're currently both charging quite a lot for data and are the only place where you can get 4G. EE have also reduced the number of retail stores that they operate without sales dropping and have decommissioned 548 redundant network sites to further cut operating costs.
Even their fixed Broadband business is doing well, with revenues up by 11% year-over-year and 95% of fixed-line customers selecting broadband and line rental on top of mobile.
It will be interesting to see if EE are reporting such healthy business the same time next year, since right now they're riding high on a wave of early 4G success, while by then it's likely that O2, Vodafone and Three will each have a sizable market share too.