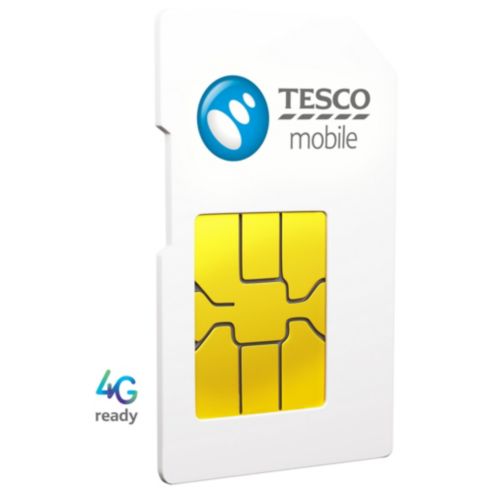 There tends to be two main advantages to opting for SIM only. The first is cheaper tariffs, made possible by the fact that you're not paying for a new handset on top of your allowances and the other is increased flexibility, as most SIM only tariffs are either one or 12 months long.
However Tesco Mobile has just launched some 18 month ones, which obviously don't have the flexibility that most SIM only tariffs are known for but by tying you in for longer Tesco Mobile is able to offer even better value for money.
For many people the desire for flexibility is driven by a desire to always have the best possible deal, which Tesco Mobile is more likely to be able to offer by tying you in.
It's the first and only UK network to offer 18 month SIM only tariffs and there are two on offer, both with 4G data as standard.
The first is just £10 per month and comes with 1GB of 4G data, 1000 minutes and 5000 texts, while the second is only slightly more expensive at £12.50 per month and gives you 2GB of 4G data, 1500 minutes and 5000 texts.
They're both good value then but the more expensive one is clearly the better value of the two, as you get double the data for not much more money. Simon Groves, Chief Marketing Officer at Tesco Mobile explains that: "These data rich deals are available for anyone who is in the market for making savvy mobile choices and are happy with their handset.
"Our customers told us that they are happy to commit to a deal for a longer period of time if it means they don't have to worry about looking around for the best deal.
"Switching to a SIM only deal could save these customers hundreds of pounds a year because the cost of a new handset isn't included in the monthly tariff."
As an approach it makes sense and those are some very compelling prices, though they're not without competition. BT Mobile and giffgaff for example are only a little more expensive and they don't tie you in for as long.
Of course the argument is that being tied in isn't a problem with such good rates, which is fair, but with only two 18 month tariffs available there aren't many options and they're not a good fit for heavy data users. Still, if they prove popular there's no reason to think Tesco Mobile won't extend the range. After all it offers 1 and 12 month contracts with up to 8GB of data, which is a far healthier amount.
Head over to Tesco Mobile to view the SIM deals