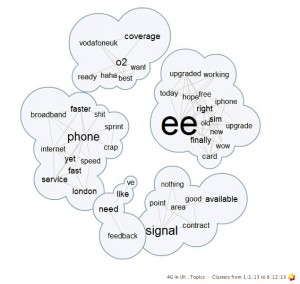 Social media reacts to 4G service roll outs : Crimson Hexagon identifies drivers of conversation, including 10% of users experience little or no coverage.
As the UK gears up for the launch of 4G across a number of primary service providers, Crimson Hexagon has used its social media intelligence platform, ForSight, to break down and understand on-line sentiment, and gain insight into what users are saying and feeling about the rollout. The most trending social media terms and topics can be seen in the word cluster above. The data was collected between February and June this year.
The analysis of 52, 801 social media posts found that 10% of Twitter and Facebook users currently with access to 4G services are still experiencing poor mobile phone coverage or no coverage at all. 8% of posts say that it's the phone signal that needs a boost rather than the data, whilst 10% of users commented on the general bad performance of the 4G service.
But it is not all bad news for 4G users and providers. According to Crimson Hexagon's research, over a quarter of social media users weighing in on the conversation have access to 4G services and technology, and 'love' the service. Other users were generally pleased with the service, and 12% said they experience good speeds and performance. Additionally, ForSight found that 27% of on-line conversations about 4G, mentioned specific brands of phones and networks – a positive for telecoms providers and networks.
Tom Whitney, consultant at Crimson Hexagon said: "Brands can no longer ignore on-line social sentiment as it provides a unique, real-time channel to communicate directly with consumers.  Ultimately, our goal is to provide context, meaning and structure to the mass of on-line conversations so that brands and marketers can create actionable business insights and learn exactly what is working and – sometimes more important – what is not working.  The 4G analysis will be of particular interest to telecom providers as it identifies key drives of negative sentiments, for instance poor geographical coverage, and a perception that data improvements are coming at the expense of better phone signal."
ForSight analysed a total of 52, 801 relevant posts and found the following results:
10% of users said they have poor coverage or no coverage at all 8% indicated the phone signal needs a boost rather than the data 10% of social media posts commented on the general bad performance 12% of posts mentioned good speed and performance 26% of Twitter and Facebook users said they are already using 4G and "love it" 8% had questions over the coverage or a confused about what's on offer 27% of social media conversations discussed brands of phones and networks