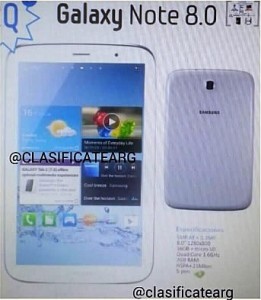 We previously heard that
Samsung
could be unleashing the 4G enabled Samsung Galaxy Note 8 next month at the Mobile World Congress in Barcelona. This seems to be on the cards as a new image is leaked and more specification details are unravelled. The image of the
Samsung Galaxy Note
8 is shown above and although this is not as good as a Samsung official photo it does also list some key specification details. Of course, the Samsung Galaxy Note 8 is the smaller version of the Samsung Galaxy Note 10.1 and both are 4G enabled.
Samsung Galaxy Note 8 – what's known
The Android operating system will be Android Jelly Bean ( Android 4.1 ) and the Galaxy Note 8 comes with 4G, 3G WiFi and Bluetooth connectivity. With a screen measuring 8 inches it makes sense to include the acclaimed S-Pen interface and pen. The image lists the specification of the 4G enabled Samsung Galaxy Note 8 as having an 8 inch display screen with a Super LCD touch screen and display resolution of 1280 x 800 pixels. The Samsung Galaxy Note 8's mobile processor is listed as being a 1.6GHz quad-core processor with access to 2GB of Random Access Memory. In addition, there is 16GB of on-board memory which can be beefed up via a microSD card. The main camera is a modest 5 megapixels.
Samsung Galaxy Note 8 – the competition
The Samsung Galaxy Note 8 is aimed at consumers looking for a screen size of larger than a 7 inch tablet yet smaller than a 10 inch tablet. The 8 inch screen size may be a winner here. In terms of specification it is on a par with Apple's iPad Mini so that also fares well. Perhaps the real battle could be won on price and this is where we see the Samsung Galaxy Note 8 potentially losing out to the Amazon's Kindle Fire HD and Google's Nexus 7 as they compare the 7 inch tablets to the Galaxy Note 8. Source