RootMetrics is arguably the leading tester of 4G services across the UK, but while the fastest speeds and the greatest coverage tend to form the headlines of their reports there's a lot more to 4G performance than that.
With that in mind RootMetrics has prepared a special report, going deeper into the specifics of 4G on each of the UK's major mobile networks.
EE
EE's headline is that it offers the fastest 4G in the UK and has the largest 4G footprint. What you might not know though is that it's Belfast which benefits the most from EE, with 92.9% coverage across the city and a median download speed of 32.1Mbps, which is more and faster than RootMetrics recorded anywhere else.
But even on EE you can't always get a 4G connection. RootMetrics has carried out tests in 16 markets, specifically Belfast, Birmingham, Bristol, Cardiff, Coventry, Edinburgh, Glasgow, Hull, Leeds, Leicester, Liverpool, London, Manchester, Newcastle, Nottingham and Sheffield and across those markets EE recorded amedian 79.3% of its tests on 4G.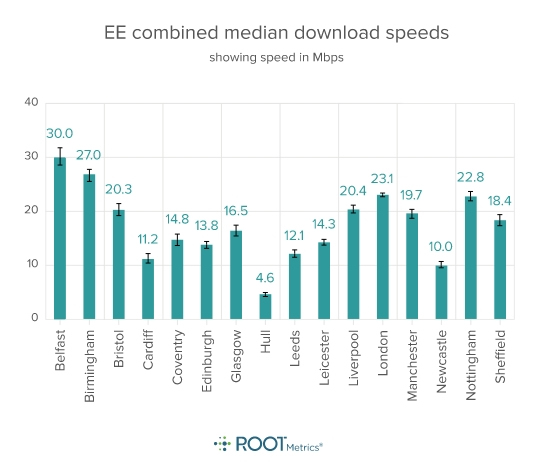 But across the different cities those results are wildly variable, with for example Hull seeing just a 48.5% connection rate, though while low by EE's standards that's still higher than Three achieved anywhere.
The reliability of EE's 4G network proved hugely impressive. In 15 of the 16 markets an initial connection was made more than 99% of the time when testing on 4G and EE successfully managed to maintain a connection at least 95% of the time in all 16 markets and more than 99% of the time in 14 of them.
When it comes to speed EE continues to impress, with its highest speed recorded in Belfast, where it reached 94.1Mbps, though Bristol and London came close with top speeds of 92.7Mbps and 90.5Mbps respectively. These high speeds in busy cities suggest that congestion isn't an issue for the network.
EE's median speeds also impress, with the network achieving speeds of above 20Mbps in 12 of 16 markets.
Even when looking at combined 3G and 4G speeds EE impresses, with a median speed of 10Mbps or more in all markets other than Hull, which managed just 4.6Mbps.
O2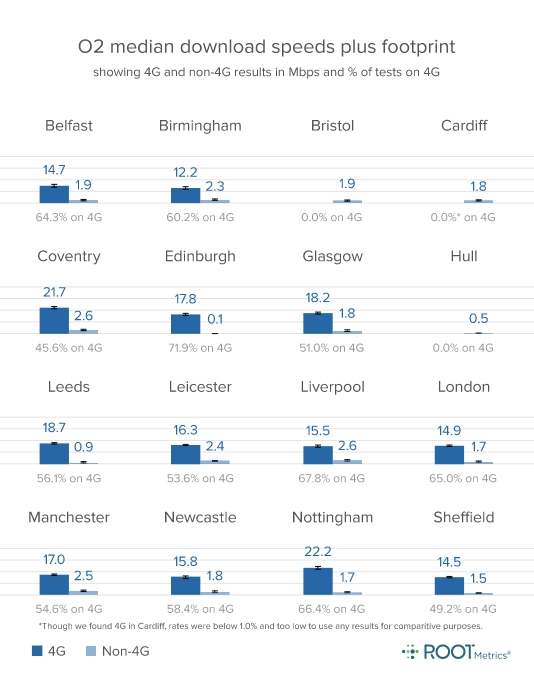 RootMetrics labels O2 as an emerging challenger, thanks to rapid growth and improvement. The network's largest 4G footprint is in Edinburgh, where it has 71.9% coverage, while its fastest median download speed was 22.2Mbps in Nottingham.
O2 managed a median 52.7% 4G access rate across all 16 markets, though that includes Bristol, Cardiff and Hull, which don't yet have 4G coverage from O2.
Its reliability is more impressive, with initial 4G connection rates of 98.4% and the ability to maintain a connection more than 99% of the time in all markets where 4G was available. Taking the markets with no 4G out of the equation that means it actually tops EE for reliability.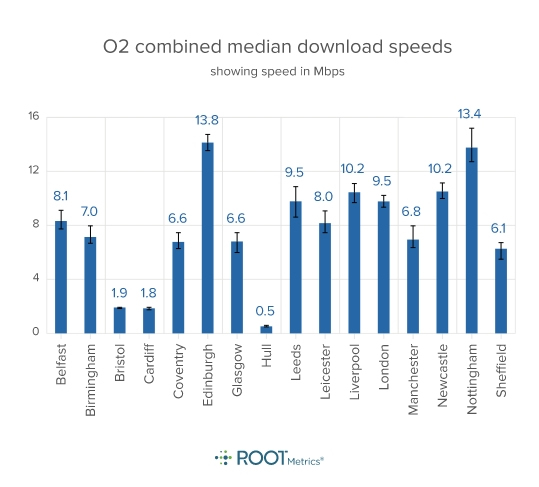 O2 can't match EE for speed though, with its top recorded speed being just 64.7Mbps. That was in London, though a speed in Coventry came close at 64.5Mbps, making it almost a third slower than EE's fastest speed.
Median speeds are more important though and while O2 again trails EE in general there it's coming very close in some locations and occasionally even topping it, for example in Coventry EE recorded a median of 20.5Mbps, while O2 managed 21.7Mbps, which could be a sign that O2 is starting to catch up with EE. Indeed
RootMetrics is seeing signs that O2's network upgrades are narrowing the gap between it and EE, the market leader.
Three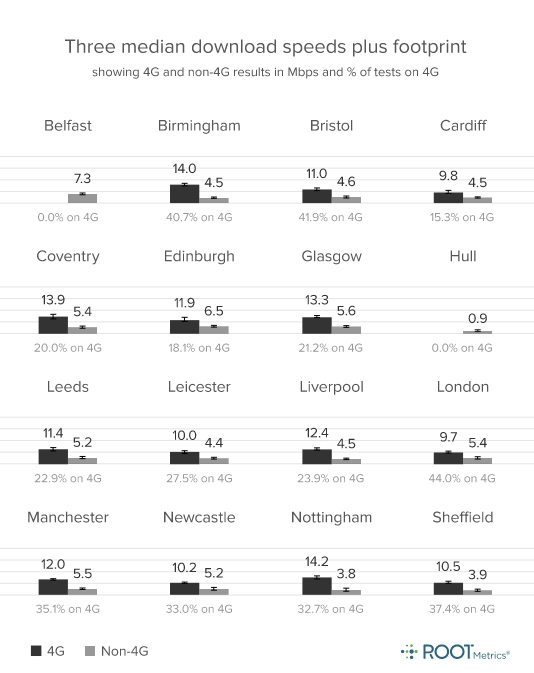 Three's 4G coverage and speed are both lower than the other networks, but it was found to excel when 4G wasn't available.
Its largest 4G footprint is just 44% and that's in London and is lower than the worst coverage rate from any other operator, while its fastest median download speed is a mere 14.2Mbps, a speed which was recorded in Nottingham.
That's not great and things aren't any better when looking at Three's median 4G access rate across the 16 markets, as it stands at just 24.8%.
However the network rates well on reliability, with initial connection rates of near or above 99% in all markets where 4G was available and above 90% even in markets where it wasn't.
Its success rate for maintaining a connection and completing tests was high too, at near or above 99% in all 4G markets, while even when 4G wasn't available it maintained a connection over 97% of the time in 15 of the 16 markets.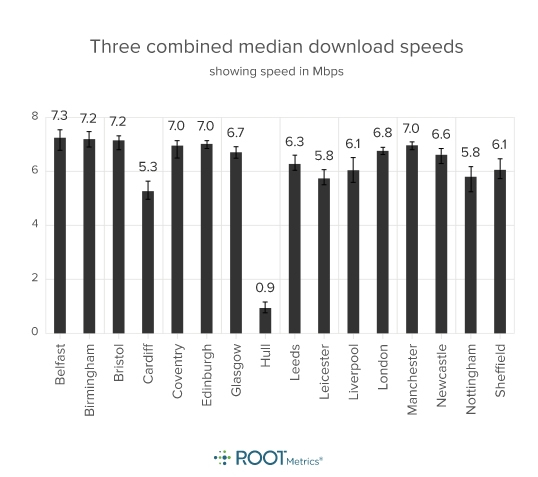 In speed tests Three achieved its highest single speed of 50.0Mbps in Sheffield. That's fast but it's still far slower than O2 or Vodafone and barely more than half as fast as EE's fastest speed.
Its median speeds weren't great either, as it was the only network to never break 20Mbps, though when 4G was available it typically recorded speeds above 10Mbps, which is still enough for a smooth experience in most situations.
While we're primarily focussing on 4G here it's worth mentioning that Three excelled when 4G wasn't available, with median 3G speeds of above 5Mbps and a high of 7.3Mbps, making it a strong choice if you only have a 3G phone.
The network's combined 3G and 4G median speeds fell between 5 and 7.5Mbps in all markets except Hull, which managed a median of just 0.9Mbps, but all the networks seem to struggle in Hull.
Vodafone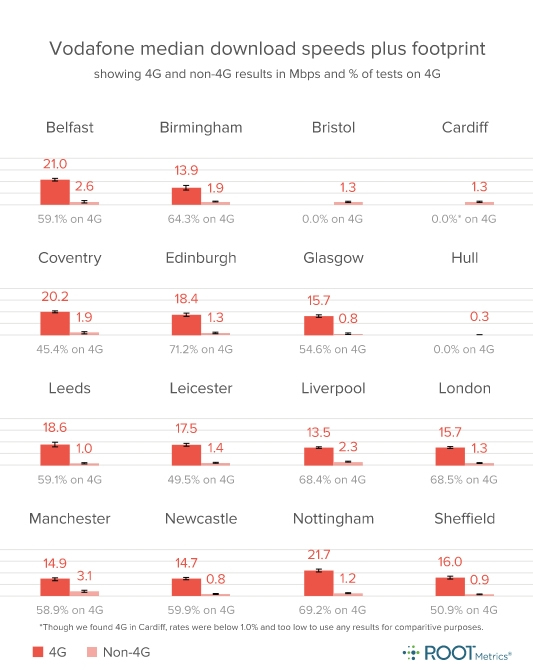 Like O2, Vodafone has been marked out for its improving performance and coverage, which could soon make it a real competitor to EE. Its largest 4G footprint was 71.2% in Edinburgh and its fastest median download speed was 21.7Mbps in Nottingham.
Vodafone recorded a 58.2% median 4G access rate across all 16 markets, though as with O2 it has no coverage in Cardiff, Bristol or Hull.
The network proved impressively reliable, with initial connection rates of near 99% or higher in all 4G markets and a near 100% success rate at completing tests in all of its 4G markets. All the networks have high 4G reliability scores but none of the others are quite that high, though Three impresses on 3G.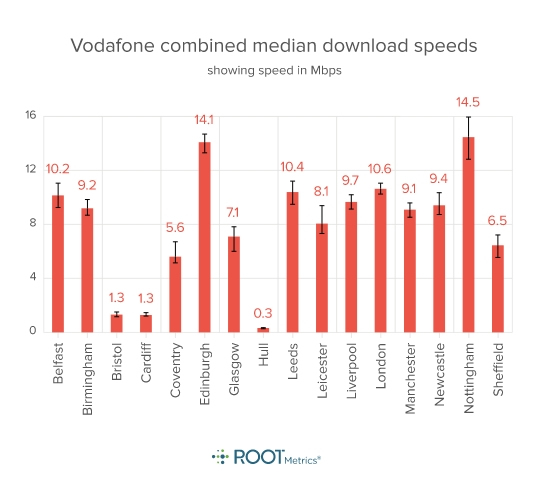 Vodafone's highest single speed was almost identical to O2's at 64.5Mbps, a speed which was achieved in both London and Belfast.
Median speeds were also similar to O2's, which isn't surprising since the two networks share some infrastructure. However Vodafone actually proved slightly faster than O2 on average.
Both networks achieved median speeds of over 10Mbps whenever 4G was available and often topped 15Mbps, but O2 only surpassed 20Mbps twice, while
Vodafone managed it three times, making it EE's closest competitor when it comes to average speeds. With its network upgrades ongoing Vodafone, like O2, could soon be a serious challenger to EE.