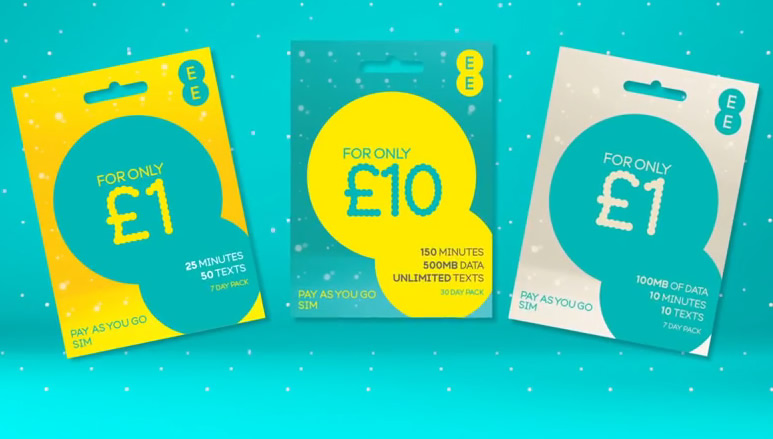 Pay as you go on EE isn't one size fits all, instead the network has devised a selection of packs that you can choose from based on your budget and needs.
Split in to three categories there's data packs which cost £1, last for 7 days and include 100MB of 4G data, 10 texts and 10 minutes, then there's talk and text packs which don't include any data but do have a reasonable amount of minutes and texts.
These are available in three sizes, starting at £1 for 7 days for 50 texts and 25 minutes, rising to £10 for 30 days with 250 minutes and unlimited texts and at the top end £15 for 30 days with 750 minutes and unlimited texts.
Or if you want a lot of everything there's everything packs, which start at £10 every 30 days, for which you'll get 150 minutes, 500MB and unlimited texts, or for £15 every 30 days you'll get 500 minutes, 2GB of 4G data and unlimited texts and most expensive of all is the £25 pack, which gives you 1000 minutes, 4GB of 4G data and unlimited texts every 30 days.
So you can choose the pack that's the best fit for you and you can change it at any time and if you don't change it your pack will seamlessly refresh every month, taking money from your credit. Plus if you run out of minutes, text or data before it refreshes you can purchase a top up or for minutes and texts you can just use your credit to pay for them at standard rates.
Best of all though every three months you can add extra minutes, texts or data to your pack at no extra cost, so keep buying them and they become better value.
To choose or change your pack just go to the EE app or text ALL PACKS to 150 from your EE phone and if you use the app you can also keep track of how much of your allowance you've used, but don't worry, if you run out EE will text you and let you know anyway.
Of course there's no requirement to use packs at all, you can always just use your credit as normal, but the packs are better value even before you add free extras over time.
FIND OUT MORE ABOUT EE PAY AS YOU GO PACKS HERE