[caption id="attachment_587" align="aligncenter" width="287"]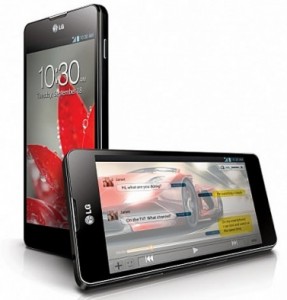 LG Optimus G Pro 4G LTE[/caption]
4G phones are beginning to surface much to 4G's delight here. Although the LG Optimus G was first heard of late last year in Korea, a more formal announcement has now come via LG for the LG Optimus G.
The LG Optimus G is a 4G LTE enabled smartphone and will be heading to the UK to buy in October. Of course, it's an Android smartphone and comes with Android Ice Cream powered by a 1.5 Ghz Snapdragon S4 quad-core processor and has 32GB of memory and 2GB of RAM. The touch screen display comes in at a resolution of 1280x768 pixels and measures 4.7 inches and is a True HD IPSPlus display with a 16:9 ratio.
There is a new UX ( User Experience ) feature which contains new hardware within the LG Optimus G and includes a feature called "Cross-Tasking". This is all about multi-tasking and allows the user to do two things at the same time. By using the Q-Slide function you can carry out 2 tasks at the same time via 2 sliding screens and see and maintain control over both.
There is a ultra high-resolution 13 megapixel camera which is reported to offer the sharpest photos with no pixelation ( even creating extra-large prints say LG ). There are many new features that come with the LG Optimus G. These include "Live Zooming" that lets you zoom in up to 5 times on your recorded HD videos and play it back. . "Dual Screen Dual Play " offers dual output to different display devices such as your LG Optimus G and a HD TV at the same time. Many more additions are present such as "QuickMemo" support.
Were looking forward to seeing the 4G enabled LG Optimus G in the "flesh" when we will undertake our LG Optimus G review and find out how it performs in the competitive smartphone market.