[caption id="attachment_574" align="aligncenter" width="160"]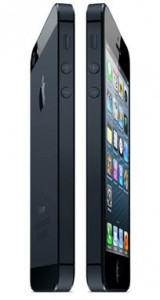 The minus points against the iPhone 5 by 4G.co.uk.[/caption]
The iPhone 5 launch date is fast approaching ( this Friday 21st ) and 4G.co.uk has written items about all the plus points of the iPhone 5 so now it's time to identify the minus points.
The first area we decided to look at was to look at competing smartphones and operating systems to see how the iPhone 5 fared against its competition and reveal which features have been omitted from the iPhone 5.
The first minus point we found was that a number of competing smartphones come with for NFC ( Near Field Communications ) and is present in virtually all Android smartphones. Is it important that the iPhone 5 comes without NFC ? Well yes because you can pay for goods and services in shops and places. Another use of NFC is via "Smart tags" which automatically change your smartphone settings to adopt to different environments e.g. phone sets automatically "to silent" when you enter your bedroom.
The second minus point looks at the area of wireless charging which has not been mentioned at all by Apple as coming any time soon to the iPhone 5 or iPhone 6. 4G expect to see wireless charging as a must have option and this is where Nokia get a big plus as the Nokia Lumia 920 and 820 support wireless charging.
The third minus point applies to the new "Lightning" dock connector which is both a big plus but there is also a minus attached to it. It comes as 80% smaller than the 30 pin dock connector it replaced yet there is now an interchangeability problem unless you buy a new Apple dock-adaptor. It costs £25 and can only be purchased from Apple.
The fourth minus point is our friend the battery which remains a sealed unit. The drawback here is that sometime you will need to send your iPhone 5 away for battery replacement and outside of your warranty period this gets a bit tricky too.
The fifth minus concerns the new nano-SIM which comes in a plus point as its 40% smaller than its predecessor but does mean that you need to transfer over your contacts etc. from your micro-SIM onto the iPhone 5's new nano-SIM.
We don't think the minus points above will prevent anyone from buying the iPhone but we thought we'd lay the minus points bare for all to see.