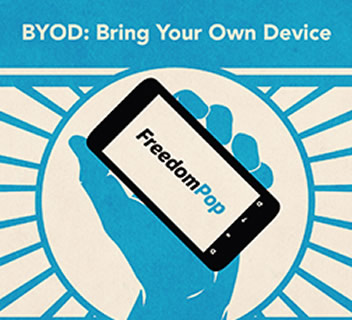 FreedomPop offer free 4G to all!
While it's possible to get highly affordable mobile tariffs customers have always had to pay something, but amazingly with FreedomPop you don't have to shell out anything at all. Well, other than an initial £6.99 for SIM card delivery and activation.
After that this new mobile network, which has been plying its trade in the US for a while, will give you 200 minutes, 200 texts and 200MB of data for free every single month. So if that's all you need you never have to spend another penny.
Even if you want more data than that it's possible to get freebies, by completing offers and taking surveys, but if you want a consistently high quantity of data FreedomPop also offers more traditional tariffs, charging £9 per month for 1000 minutes, 1000 texts and 1GB of monthly data or £12 per month for unlimited minutes and texts and 2GB of data.
Those are still pretty reasonable prices and if you need even more data there are also bolt-ons available, but it's the free offering which is likely to be the most popular, whether for light users or as a backup for use in emergency.
FreedomPop runs off the Three network, so wherever Three has coverage so too does FreedomPop and it offers 4G where available as well.
More interestingly it claims that it will be expanding to other countries in the future with no roaming fees, which combined with no normal fees could make it a real winner.
The network even has a few other unique tricks up its sleeve, like allowing users to roll over unused data to the next month, or share their data with friends and family.
You can order a FreedomPop SIM card now from the company's website, but if you're planning on doing that make sure you pay attention while checking out as while the basic service is free it tries to bundle in several extras which aren't if you don't untick the right boxes.
It's presumably these sort of things which it makes its money through. Plus charging you 1.5p per megabyte if you go over your data allowance. Still, it's hard to argue with free.