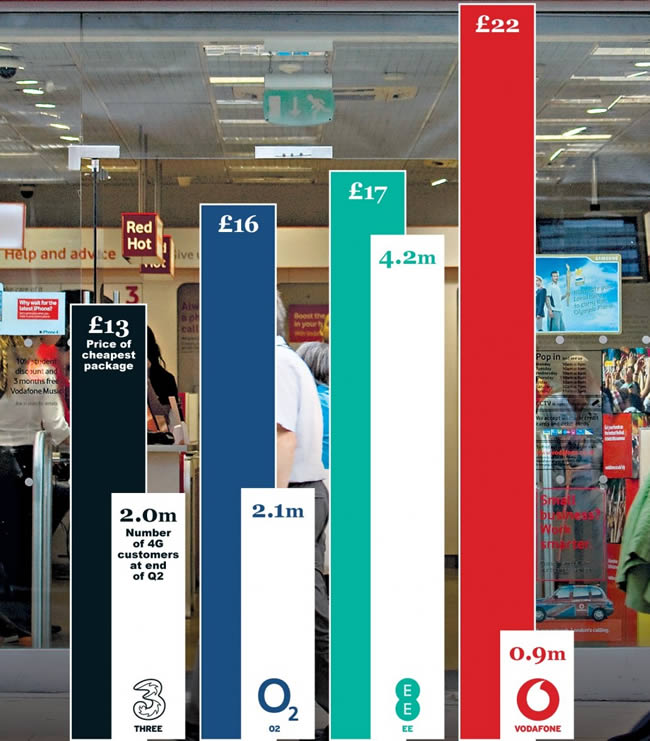 It perhaps comes as no surprise that EE has far more 4G customers than O2, Vodafone or Three, but you might be more surprised to learn that Vodafone has less than half as many as either O2 or Three, leaving the network trailing way out behind.
The information, gathered by The Telegraph, points to Vodafone's high pricing as the main culprit. As you can see from the graph Vodafone's cheapest 4G tariff comes out at £22, while EE's cheapest is £17, O2's is £16 and Three's is just £13, so it's no wonder that customers aren't gravitating towards the network.
Indeed Vodafone has just 0.9 million 4G subscribers, amounting to just around 1 in 10 of the UK's 4G customers, while EE has 4.2 million, O2 has 2.1 million and Three has 2.0 million. The price is obviously a big factor and Vodafone's tactic of bundling premium services such as Spotify and Netflix with its subscriptions seemingly isn't working, with Kester Mann, principal analyst at CCS Insight, pointing out to the Telegraph that:
"The approach Vodafone has taken is very much to make 4G a premium-priced product. The challenge it has is that competitors have come in much lower. It's not clear that bundling content has worked; the type of people who would want Sky Sports mobile or Spotify subscriptions are quite likely to have them anyway through other routes."
But price is clearly not the only factor. After all EE is the second most expensive network according to these figures and yet it has far more 4G subscribers than any other. In EE's case there are some clear reasons why. For one thing it had roughly a year's head start to begin building subscriber numbers.
That extra year also means it has far wider coverage than any other network, making it a more tempting prospect and it's also come up with ways to make its 4G service stand out from the competition, such as double speed 4G in select locations and even plans to bring LTE-A to London.
Three meanwhile is the new kid on the block, so there's no wonder its subscriber numbers are the second lowest, especially as it has less 4G coverage than the other networks. But it's also the cheapest and offers unlimited 4G data tariffs, which none of the other networks do, so it makes sense that it's got a lot more subscribers than Vodafone and we wouldn't be surprised if it soon overtakes O2 as well.
Speaking of O2, there are some obvious reasons why it has the second most 4G subscribers right now. It launched its 4G network at the same time as Vodafone and has experienced a similar rate of coverage expansion since launch, so in that sense there's not much to choose between the two, but O2 is cheaper making it the obvious choice.
If you look into RootMetrics tests then it's even more obvious why Vodafone might be struggling, as the network tends to under perform in terms of data speeds and coverage and even call quality.
While it's unlikely that the majority of people are aware of these tests we live in an increasingly tech savvy society so many may be and even if they're not, the fact that Vodafone regularly scores worst suggests that it will have relatively low levels of customer satisfaction, leading people to jump ship and pick a new network when it's time to renew.
So there are any number of reasons for Vodafone's problems and EE's lead. With BT set to re-enter the mobile market later this year there'll be even more competition and Vodafone will have to really step its game up to stay relevant, while O2 is perhaps on precarious ground too with Three nipping at its heels and even EE may risk losing some of its lead as the other networks begin to catch up with its coverage.
So none of the networks can rest easy and that's good for consumers, as whatever network you're on competition is likely to drive prices down and service quality up.
Looking to find out more about 4G and 4G LTE?
Source