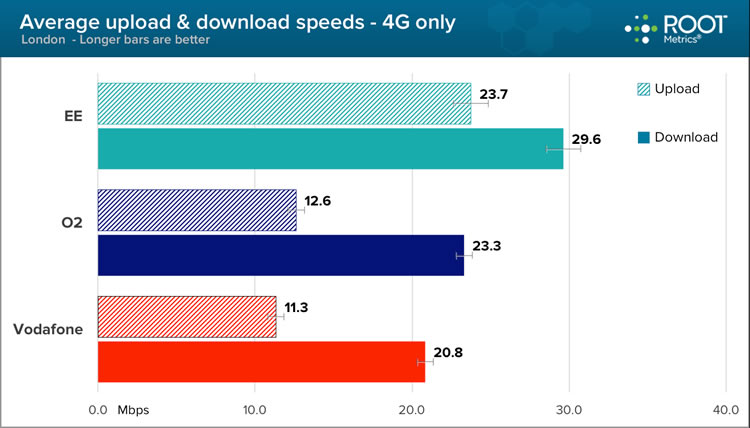 With three 4G mobile operators having launched 4G in London it certainly makes sense to us here that someone should undertake a speed comparison to see who offers the fastest 4G mobile services in the capital.
Recently tests were conducted by Rootmetrics who carried out 4G mobile evaluation testing over 5 days and nights across London. In fact, over 11,000 tests were conducted covering indoor and outdoor locations and while driving throughout London.
The favourite to win this 4G speed comparison of download and upload speeds between EE, Vodafone and O2 must be EE. We base this on the fact that EE have launched its 4G in London nearly 12 months ago and have since upgraded its network to "double-speed 4G". Vodafone and O2 launched their 4G mobile networks in London just a few weeks ago and would therefore be expected to trail EE in both the coverage and speed stakes. EE achieved an average download speed of just under 30 Mbps which works out to be around 10 times faster than a standard 3G network.
Rootmetrics have previously carried out tests of EE's 4G mobile network in a number of cities and tested them against Vodafone's and O2's 3G networks and as you may expect EE easily outperformed both Vodafone and O2, who had not yet launched a 4G network.
Looking at the graphs above and below we can see how well the three 4G mobile operators are performing. The graph above shows the average upload and download speeds achieved during the tests with EE as clear winners. EE's average 4G download speed is around 50% faster than Vodafone and some 40% faster O2. EE also go faster than Vodafone and O2 when it comes to average 4G upload speeds ( e.g. uploading a photo ) and are 50% faster.
The comprehensive tests undertaken by Rootmetrics in London confirm EE as the most desirable 4G mobile operator in the capital at the current time. However, we think that we must take into account how recently Vodafone and O2 have launched their 4G networks and expect both Vodafone and O2 to "claw-back" EE's speed advantage over the next 6-12 months. 4G expect to see all three having a similarly performing 4G mobile network sometime in 2014, but maybe later rather than sooner in that year.
More reading : What is Double Speed 4G?
Vodafone 4G Shown In Action : Great If You Live in London
EE's 4G Network Outclasses Allcomers in Belfast
Vodafone is Expanding its 4G Coverage- But Not Fast Enough