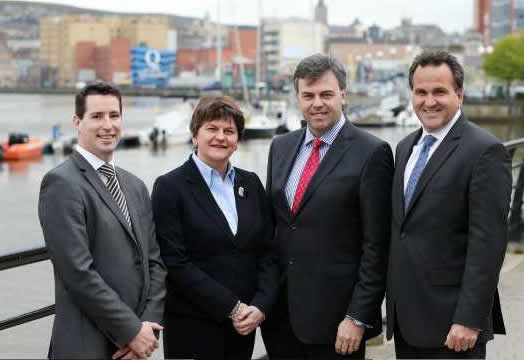 EE customer services coming home
Having built the biggest and fastest 4G mobile network in the UK, EE is now turning its attention to the support structure, by pledging to bring over 1000 customer service roles to the UK over the next 24 months.
That in theory should improve EE's overall customer service, by having local people offering support rather than relying on overseas call centres. But as well as that it's also helping to create jobs.
The first step of EE's plan has already been put into action, as the network has announced that it's opening a new customer service centre in Londonderry / Derry, Northern Ireland. The centre will employ around 300 people.
Arlene Foster MLA, Minister of Enterprise, Trade and Investment
 "Following the Invest in NI conference chaired by the Prime Minister and the First Minister last autumn I am delighted that EE, along with their partner Convergys, have today announced that they will be opening their newest customer service centre in Londonderry and bringing 300 jobs to Northern Ireland. This shows that Northern Ireland workforce can compete and win on the quality of service they offer."
Olaf Swantee, CEO of EE said:
"EE has delivered the UK's biggest, fastest and most reliable mobile network. I am immensely proud of what we have achieved and I am now determined that within 18 months, I will be able to say that EE has done for customer service in the UK what it has done for networks.
"Returning over 1,000 customer jobs to the UK from overseas call centres is a significant part of the strategy to achieve this goal. That's why I am delighted to announce the opening of our new customer service centre in Northern Ireland. This is great news for both job seekers in Londonderry/Derry and our customers across the UK."
EE also took the opportunity to announce that it will be almost tripling the size of its apprenticeship programme, providing training and employment opportunities to over 1300 young people, many of whom are from areas of high unemployment, by the end of 2015.
Looking to find out more about 4G?