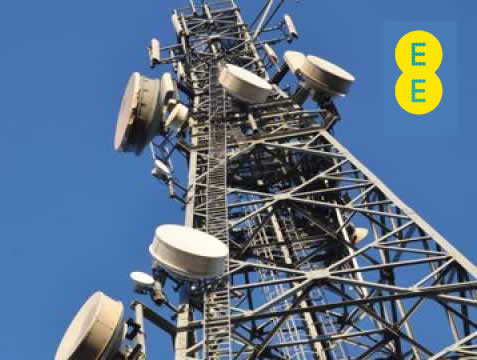 EE has big plans. All of its progress with 4G so far was just stage one of its network strategy and now the company is moving on to stage two.
As part of that it's announced that it's investing £1.5 billion between now and 2017, with the goal of its 4G footprint overtaking 2G by then. More specifically EE aims to bring 4G to more than 99% of the UK population.
It also plans to bring double-speed 4G with download speeds of up to 60Mbps to 90% of the population and 4G+ (aka LTE-A) to 20 of the UK's busiest cities by 2017, theoretically allowing for download speeds of up to 150Mbps.
Rural areas haven't been left out though, as EE is also aiming to bring both voice and data services to 90% of the UK geography, with 99.6% reliability.
It will be bringing voice coverage to 90% of the UK's 245,000 miles of roads by 2017, up from the around 82% that it sits at now, as well as bringing 4G to the country's busiest train routes.
Low frequency 800MHz spectrum will be deployed in rural areas, expanding the network's rural reach by more than 1,500 miles, which it points out is an area bigger than the Peak District and Lake District National Parks combined.
EE is also using Micro Network technology to make phone calls and mobile data available in 1,500 communities which don't currently have a reliable connection. In the process of all this it should minimise coverage 'not spots'.
EE CEO Olaf Swantee said: "Stage one of our Network strategy saw us overhaul UK mobile networks, launching 4G and changing the way people and businesses use their smart devices. This revolution of the mobile landscape has made the UK a leader in global communications once again.
"Today we're announcing the next stage with a commitment to, once again, radically improve mobile coverage, this time with a strong focus on rural UK, all while continuing to increase speeds and capacity with deeper coverage in more cities."
And EE isn't stopping there. The network also plans to introduce 4G Voice (aka VoLTE), allowing users to make and receive calls over 4G. Wi-Fi calling will also be enabled on various iOS, Android and Windows Phone devices and the company is even a key stakeholder in a multi-year programme ensuring the UK will be a leader in 5G mobile technology.
So perhaps saying EE has big plans would be an understatement and with most of this aimed for completion by 2017 the UK could soon be one of the best connected places in the world.