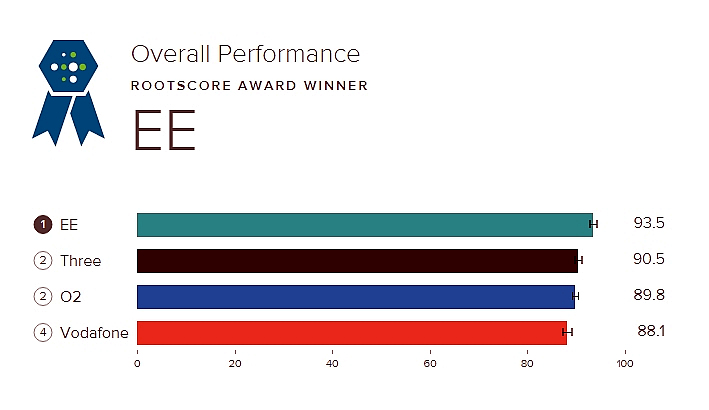 Given EE's consistently great performance it's reached the point where we tend to just expect it to top any given network test and so it's no surprise to find that it's come out on top in the latest London RootMetrics tests.
The study, which cover the second half of 2014, involved 88,253 individual tests and saw EE score 93.5 for overall performance, followed by Three with 90.5, then O2 with 89.8 and finally Vodafone with 88.1.
That's the fourth consecutive London win for EE and it's getting better all the time, with its median download speed increasing from 17.8Mbps in April's tests to 23.1Mbps now, while its median upload speed increased from 9.3Mbps to 19.5Mbps.

But the report points out that while EE is the winner, all the networks have improved, so that's reason to be happy whatever network you're on. For example O2's median upload speed has gone from 3.2Mbps in April to 5.3Mbps now and Vodafone's has gone from 3.8Mbps to 6.5Mbps.
Three disappointed a little when it came to upload and download speeds, recording the lowest median of 2.4Mbps and 6.8Mbps respectively.
That's largely borne out by its mobile internet score of 87.7, putting it in 3rd place, while EE was number one with 95.2, Vodafone was second with 88.8 and O2 was last with 86.2.
But Three makes up ground in other areas. For example for call performance Three scored 92.3, while O2 was on 92.1, EE scored 91.4 and Vodafone managed 85.7.
For texting EE once again won with 95.8, closely followed by O2 with 95.5, then Vodafone with 94.9 and finally Three with 94.8.
EE as you'd imagine had the best speed score, with 90.3, compared to 85.0 from Vodafone, 83.4 from O2 and 75.2 from Three, while for reliability Three topped the charts with 95.2, very closely followed by EE with 95.1, then O2 with 91.2 and finally Vodafone with 89.6.
So EE is seemingly still the network to go for, especially if 4G is your priority, the differences between their texting skills are almost non-existent, at least in London and all four networks scored pretty well in just about every area, with the only real point of concern being Three's relatively low mobile data speeds.
Find out more about EE's 4G coverage here:  EE 4G Coverage and Network Summary