[caption id="attachment_487" align="aligncenter" width="177"]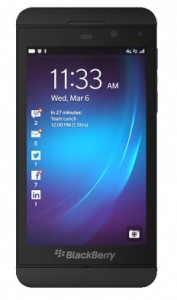 Blackberry Z10[/caption]
We've written a fair amount about the Blackberry Z10, its QWERTY partner the Q10 and the Blackberry 10 operating system. Well, we're pleased to announce that the Blackberry Z10 will be the first smartphone to be launched and stocked by Three any time now.
We don't know for sure exactly what tariff offerings Three will be making, but an educated guess says that £34 or so per month will see you with a contract with unlimited data, which is outstanding value for money.
We've posted the operator's video preview below for you to see what to look forward to for yourself. Most of the main features are covered but the Blackberry 10 platform has a number of surprises not shown.
General specification - BlackBerry Z
The Blackberry Z10 features a 4.2 inch iPhone-beating 1280 x 720 pixel touch-screen, with a 1.5 Ghz Dual-Core processor and 2 GB of RAM. The Blackberry Z10 also has 16 GB of onboard memory (expandable), an 8 MP (mega-pixel) camera and a 2MP front facing camera.
Supported connectivity includes 3G, WiFi , NFC , Bluetooth and 4G, although Three's 4G network won't be available for a few more weeks.
Key to the Blackberry Z10's success is the new Blackberry 10 operating system; see our guide here. The firmware is loaded with many fine features aimed equally at its core ownership of business users and its new market of private users, making it a great all-round platform.
As soon as it's in stock at Three we'll let you know.