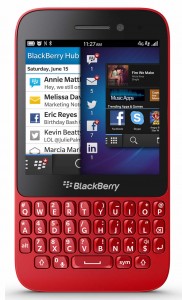 The BlackBerry Q5 is a mid-range alternative to the premium BlackBerry Q10. Both are QWERTY devices running BlackBerry 10, but while the BlackBerry Q10 has a 1.5Ghz dual-core processor the BlackBerry Q5 has a slightly slower 1.2Ghz dual-core processor. It also has a 5 megapixel camera while the Q10 has an 8 megapixel snapper, there's just 8GB of built in storage in the Q5 compared to 16GB in the Q10 and the overall build quality is lower, making the BlackBerry Q5 look cheaper.
However in many ways it's surprisingly close to the BlackBerry Q10, as both handsets have 720 x720 3.1 inch touchscreen displays with 328 pixels per inch (though the quality of the display on the Q10 is higher). Both also have 2GB of RAM, can shoot 1080p video at 30fps, have secondary 2 megapixel 720p cameras, support NFC and have a micro SD card slot to boost the storage capacity.
It's well suited to business users, with a fast and accurate QWERTY keyboard and shortcuts to speed things up further. It's also reasonably powerful, with support for multi tasking and includes BlackBerry Messenger- which also has support for video chats and sharing your screen with the person you're talking to. Plus there's BlackBerry Hub, which combines all of your social network feeds, emails, reminders and more into a single feed so you can see every new update or message all in one place, though if you'd prefer you can also customize what things are and are not included in the feed.
For photo fans there's a 'Time Shift' feature which captures several milliseconds both before and after your photos, allowing you to choose the exact right moment that you want to save, or even blend moments together to capture the best shot possible.
There's also a large 2180 mAh battery packed in under the hood and if you get the BlackBerry Q5 on EE you'll also find an option to get music streaming from Deezer included in your package, giving you a great way to make use of that superfast 4G.
The BlackBerry Q5 is available in a choice of black or white and you can get it now for free from EE on 24 month plans starting from £26 a month with unlimited calls and texts and 500MB of data, which is a huge saving over the Q10 which starts at £31 a month with the same amount of minutes, texts and data- for which you'd still have to pay an initial £249.99 for the handset.
If you'd prefer though you can also get the BlackBerry Q5 on 12 month or 24 month roaming plans and the amount of monthly data available ranges from 500MB to 20GB depending on how much you're prepared to pay. The BlackBerry Q5 is also available on other networks, but of course for now you'd have to forego 4G if you choose anyone but EE.