[caption id="attachment_5690" align="aligncenter" width="628"]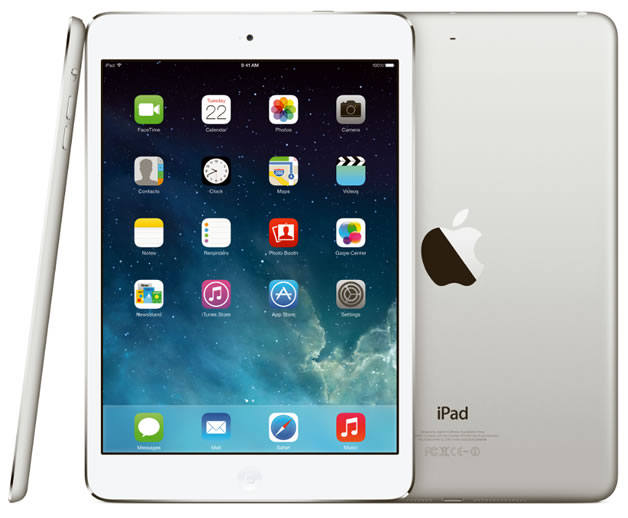 Apple iPad Mini with Retina Display has arrived.
[/caption]
The Apple iPad Mini with Retina Display is certainly a mouthful of a title. However, it does tell us what the iPad Mini with Retina Display ( previously labelled the iPad Mini 2 ) is all about. You guessed it now comes with a Retina Display and supersedes the enormously successful iPad Mini.
This gives the Apple iPad Mini with Retina Display a PPI of 326 which is double that of its predecessor, the iPad Mini. The resolution is 2048 x 1535 which matches that of the newly announced iPad Air. The display screen is 7.9 inches.
The power comes from 64-bit A7 CPU ( the same as in the iPhone 5S ) and as it is more energy efficient this pumps up the time required for a recharge to around ten hours which is impressive as it actually has a smaller battery than its predecessor. We never expected to see a TouchID sensor on the The iPad Mini with Retina Display and that's the case.
Useful reading : Apple iPad Air : The Lightest Full Size Tablet
The processor is supported by a number of memory options : from 16GB, 32GB, 64GB and 128GB with a choice of either Wi-Fi only or with 4G LTE connectivity.
Along with the two versions to choose from and which RAM you need the only other choice is to pick a colour. There are just 2 choices : Space grey or silver.
Pricing for the iPad Mini with Retina Display whether you choose the Wi-Fi only version or you pick the 4G version and what amount of memory toy select.
The WiFi only version kicks in at £320 for a 16GB Wi-Fi £400 for 32GB, £480 for 64GB and £560 for128GB .
The 4G version costs £420 for 16GB, £500 for 32GB, £580 for 64GB and £670 for 128GB.
Basically, the WiFi only version costs £100 less than the 4G version which seems about right to us.
The iPad Mini with Retina display is scheduled to go on sale from the middle of November.