[caption id="attachment_256" align="aligncenter" width="300"]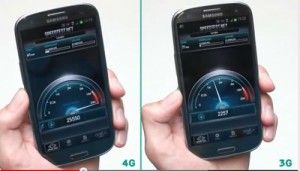 4G speed tests for four of the upcoming 4G phones coming soon.[/caption]
4G LTE will launch in the UK at the end of this month ( October ) so what better time to have a look and see how some of the 4G phones can perform when they are powered by a 4G network.
EE ( Everything Everywhere – which owns T-Mobile and Orange ) will launch 4G in 10 cities on the 30th October and in 16 cities by Xmas covering 33% of the UK. There will be a number of what EE are calling "4G Ready Phones" available at that time. EE have produced four videos for four of their upcoming 4G phones and what they can offer via 4G services.
The 4G service from EE is named 4GEE and the four videos cover the iPhone 5, the Samsung Galaxy SIII LTE, the Huawei Ascend P1 LTE and the HTC One XL. These show how fast 4G phones are at downloading large email attachments and files, watching You Tube videos and map files etc. Speed tests show that the new 4G service lets users download things around five times faster than 3G.
As soon as 4G does launch later this month 4G.co.uk will be undertaking 4G Phone Reviews of all the "4G Ready" phones in EE's portfolio. More on this soon