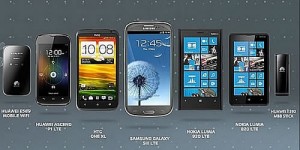 4G.co.uk thought it might be an idea to look at the 4G phones that will be launching in 2013.
4G phones and tablets – whose currently selling them ?
EE ( which owns Orange and T-Mobile ) are the only company to have launched a 4G mobile network in the UK and have so far launched in 18 cities and are scheduled to launch 4G in another 17 cities and towns by the end of 2013. They were awarded a concession by Ofcom to launch 4G in some old 2G spectrum ahead of the other mobile operators.
Meanwhile, Vodafone, O2 and Three have to wait until the conclusion of the 4G auction, which is currently underway, to launch their own 4G networks. The 4G auction has attracted 7 applicants who have applied to win a 4G licence. Once they are awarded a 4G licence they wil be ready to launch their 4G networks commencing May 2013.
4G phones and tablets – those on sale in 2012
The following 4G phones are currently available to buy : Apple iPhone 5, Samsung Galaxy S3 LTE, HTC One XL, Huawei Ascend P1 LTE,  Nokia Lumia 920 LTE, Nokia Lumia 820 LTE and the Samsung Galaxy Note 2.
The following 4G tablets are currently available to buy : Apple iPad 4, Apple iPad mini, Google Nexus 7 and the Samsung Galaxy Note 10.1. 4G.co.uk has reviewed the majority of the above 4G phones and 4G tablets and the reviews and these can be viewed by following the links.
4G Phones – coming in 2013
We thought we would simply list the 4G phones coming in 2013 and add a link to the full details that are currently available.
Samsung Galaxy S4
LG Optimus G
Huawei Ascend W3
ZTE Grand X Pro
HTC Deluxe DLX
LG Optimus G2
Sony Xperia V
HTC One SV
Apple iPhone 5S
HTC M7
Sony Xperia Yuga
Huawei Ascend D2
It looks as though 2013 is going to be a very busy year for 4G phones as can be seen from above. The fact that we already have 12 4G phones in the pipeline for 2013 while still in 2012, suggests to us that 2013 will be the "Year of 4G". 4G.co.uk will keep abreast of all the latest 4G phones, 4G tablets, the 4G auction and any other developments within 4G in the UK and post them here.