[caption id="attachment_233" align="aligncenter" width="300"]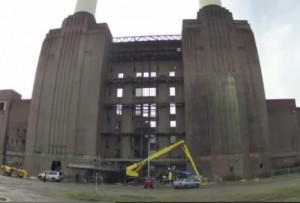 The 4G mobile launch party video which includes a digital Twitter dress.[/caption]
It was no surprise that EE decided to throw its glamorous 4G mobile launch party in London and this involved a massive 4D light projection show lighting up the Battersea Power Station.
A huge screen was erected measuring 8000 square meters between the Battersea Power Station dual chimneys. The 4G mobile launch presentation can be viewed above and features 4D projection technology and music by DJ Yoda.
The key to the presentation was the hundreds of animated light particles – which mimic the 4G mobile super-fast 4GEE network – on a journey from the EE network and throughout the UK.
Nicole Scherzinger wore a digital Twitter dress and people were invited to Tweet about the 4G mobile launch party onto her dress. The dress worn by Nicole had 500 Swarovski crystals and over 2,000 LED lights. The Twitter dress lit up as Tweets were sent in by fans in real time.
Steven Day, Chief of Brands and Communications, EE, commented: "We wanted to mark the arrival of EE, Britain's new super-fast 4G and Fibre Broadband network, with something spectacular and powerful. While Battersea Power Station leaves behind a legacy in British history - we're simultaneously shaping the future by switching on and powering up the UK's new digital communications backbone".