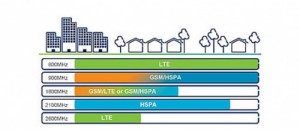 There are three frequency bands in the UK which can be used by
4G mobile network operators
. These are the 800Mhz, 1800MHz and the 2.6GHz frequency bands. The only 4G operator to have so far launched 4G in the UK is EE ( who own Orange and T-Mobile ) and they have used the 1800 MHz frequency band which they already owned and used for 2G services and was no longer needed. The above graph shows the 4G LTE bands and the reallocated old GSM 1800MHz band. EE previously applied for a concession to launch
4G
within the 1800 MHz frequency band and this was approved by Ofcom. Meanwhile, Vodafone, O2 and Three have to bid in the 4G auction to win a chunk of 800MHz or 2.6GHz frequency bands to launch 4G. The outcome of the 4G auction will be confirmed in March and then Vodafone, O2 and Three will be able to launch 4G in May 2013 or sometime thereafter. An interesting piece of news has been released by the Global Mobile Suppliers Association in that nearly 150 4G LTE mobile networks have been launched in over 66 countries to date. The really interesting bit is that over 40% of operators who have launched 4G did so in the 1800 MHz band with another 22 4G 1800MHz network deployments in progress.
Why Are So Many 4G Operators Using 1800MHz for 4G ?
It seems the main reason that the majority of 4G launches have been in the 1800MHz frequency band is that the 1800MHz band is a popular GSM band in many regions of the world and also benefits from being able to handle heavy 4G mobile data traffic. The 1800MHz frequency band is currently used for 4G either on its own or as part of a multi-band deployment ( e.g. 1800MHz and 2.6GHz ). Another benefit is that the more countries that adopts 4G in any one frequency band i.e. 1800MHZ, the greater of number of countries that mobile operator will be able to offer Global Roaming to its customers. A third benefit is that being part of the most popular 4G frequency band means that it is likely that the most 4G phones and 4G tablets would be sold via that frequency band. We think this would mean a higher volume of purchases of 4G phones and 4G tablets in that band meaning better 4G device discounts for mobile operators and hopefully lower prices for consumers.
1800MHz 4G Winners
There are two mobile operators which will clearly benefit from the popularity of 4G in the 1800MHZ frequency band and its associated benefits as outlined above. These are EE and Three. EE have been fortunate enough to launch 4G ahead of its competitors and are also fortunate to use their own existing frequency spectrum which cost virtually nothing as well as the benefits mentioned above. The other winner is mobile operator Three. They have bought some of the 1800MHz frequency band from EE back in September - for a reported price of less than £425 million. This seems a bargain to us and Three will also gain from the benefits outlined above. The only drawback in Three's case is that they have to wait until September 2013 to use the first portion of 1800MHz frequency spectrum released to them whilst the second portion of 1800MHz frequency spectrum can only be used around October, 2015. Suffice to say that EE seems to be in a great position prior to the official 4G Auction results. I mean they have already launched 4G ahead of its competition, reallocated its 1800MHz frequency to use for 4G mobile services for virtually free and now we hear this band is the most popular one in the world and comes with the benefits above too.