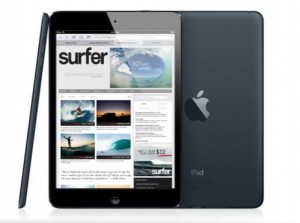 The iPad mini and the new iPad 4 which were launched on the 2nd November have sold over 3 million in combined sales in just 3 days. We recall that sales of the earlier iPad totalled some 1.5 million units for the same period of three days.
Of course with two devices being launched at the same time you may expect the sales to have doubled. In some ways Apple has two competing iPads – the iPad mini ( above ) and the iPad4 – so to achieve double the sales could be considered a greater success than it first appears.
In addition, the iPad4 is more of a minor upgrade from the iPad3 and we here at 4G.co.uk should point out that these figures do not yet include any sales for the 3G or 4G enabled iPad mini or iPad4s as they were not on sale during the 3 day period.
Apple didn't include a device by device sales breakdown which disappoints as we would have liked to have seen how the iPad mini sales racked up.
The above sales figures are of particular interest to us in the UK as the 4G enabled version of both the iPad mini and the iPad4 will be arriving in November with 4G mobile operator EE ( Everything Everywhere – which owns Orange and T-Mobile ).
As soon as 4G get our 4G iPad mini and the 4G iPad 4 we will be posting our reviews and hope this won't be too long.